44 Spring Street
Summerside,
Prince Edward Island
Your Island Home Away From Home
in the heart of downtown Summerside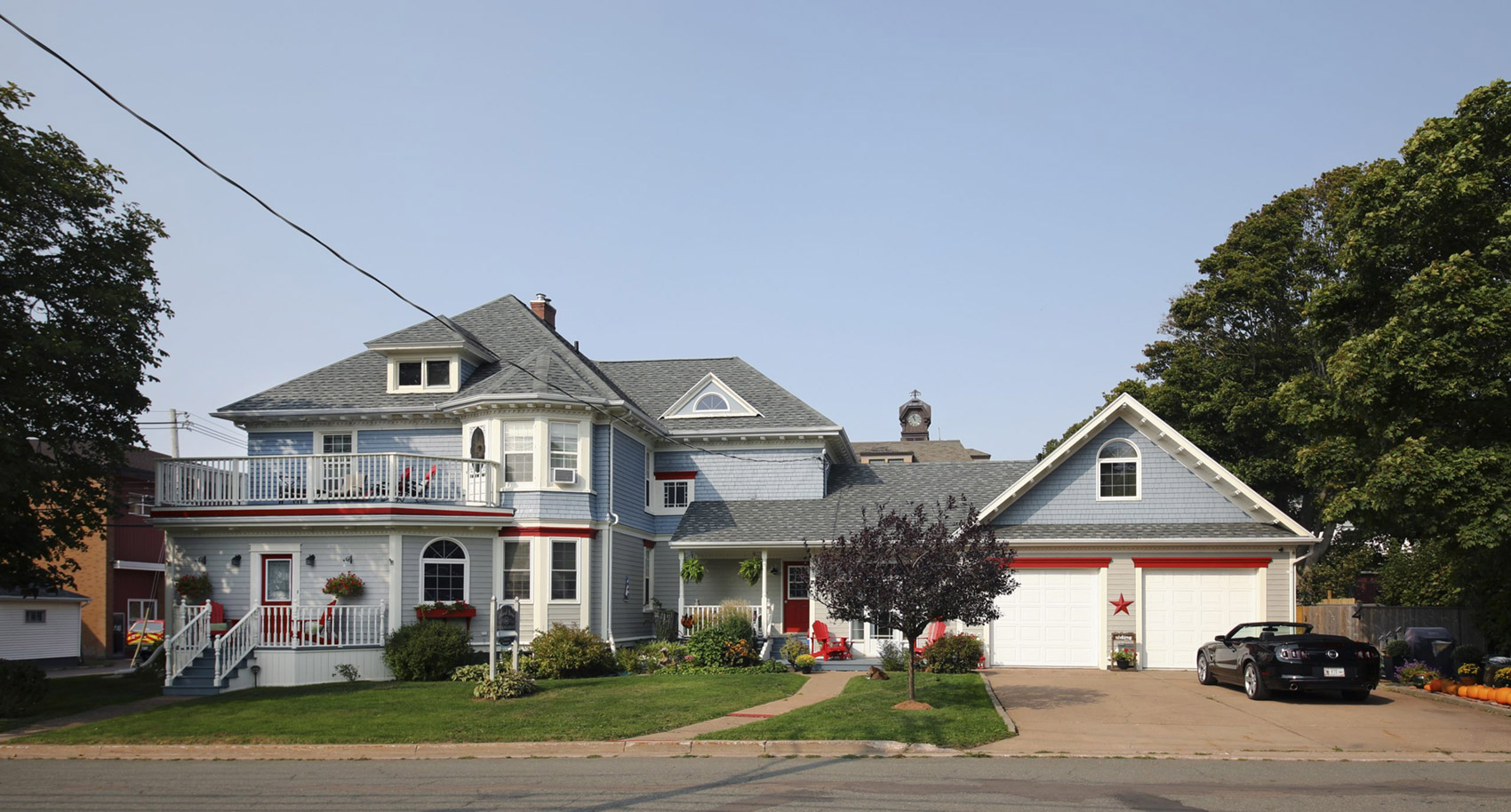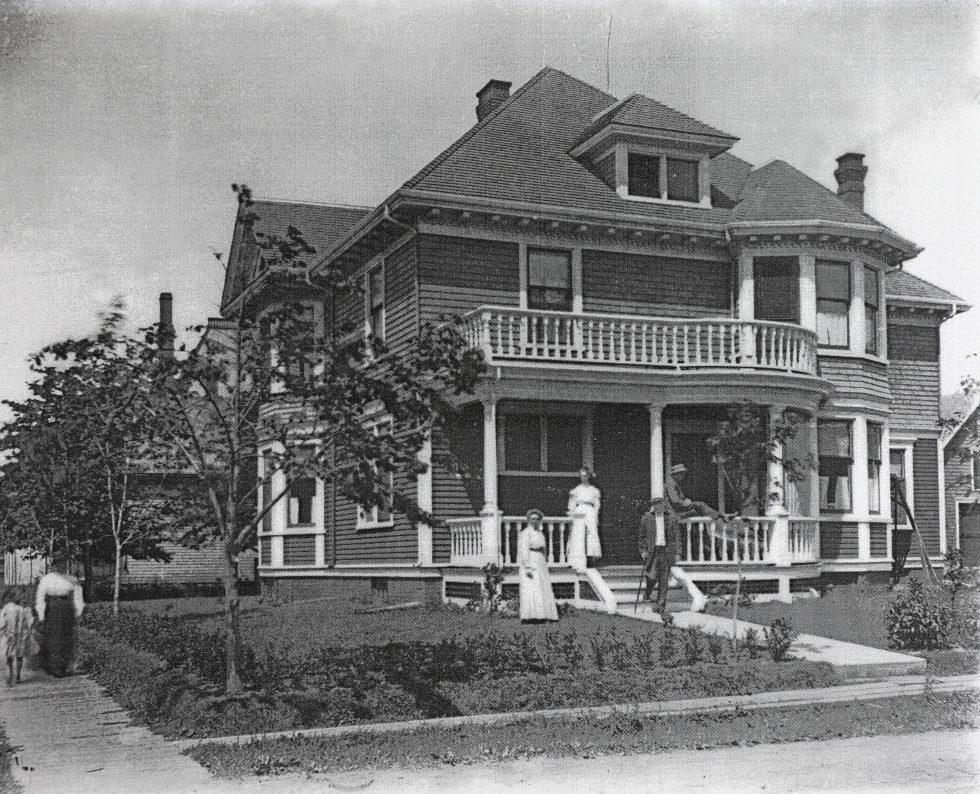 Summerside has a beautiful Historic District, with lots of stories to tell! Let's start with our home. The house is considered a historic home, given the name of its original owner – the Dr. Alex MacNeill House. The house was built in 1908 after the great fire of 1906. The fire destroyed the house that was originally on this property, and Dr. Alex MacNeill decided to buy the corner lot and the one next to it in order to build a large home for him and his family.
The doctor was seventy-two when he died in 1926. Mrs. MacNeill and her daughter, Jean, both passed away in 1947. The house was converted into rental units by its inheritor, Frank MacNeill, who lived in the house next door at 253 Fitzroy. After his death in 1967, his widow continued to rent out the apartments.
The style of architecture is Four Square Colonial Revival. Although several changes have been made over the years, including new windows, a closed sun-room which was originally the open entrance (see historic photo in the entrance), and an addition which was made many years ago, the house offers a lot to the streetscape.
Want to learn more? Great! Come visit us and we would love to share the many stories we have heard.
Island Home B&B features a 4-star rating. Located at 44 Spring St. in the historic district of Summerside, Prince Edward Island, the Island Home Bed and Breakfast offers its guests three beautiful rooms. A historic home built in 1908, the renovated and restored house has been running as a successful bed and breakfast since 2007. Sharon and Mike are pleased to welcome you to their lovely home and can't wait to share the love for the Island with you.
We hope you enjoy your stay with us in Summerside, and that you can experience all the beauty and magic PEI has to offer!
Common Areas
There is no shortage of places to spend time with new-found friends or to relax outside of your room. The guest lounge or the beautiful dining room with its magnificent wood working, and large windows offers a great place to have breakfast and meet with other guests. The hall between the guest rooms on the second floor has an area with tourist information, coffee, tea, water or a baked treat.
In the summer months you can relax outside and enjoy the wonderful ocean air and the sounds of the birds chirping above you. There are two outdoor areas available for guests to sit and relax or to get to know one another.
Mike and Sharon are your hosts at the Island Home Bed & Breakfast. We are pleased to welcome you to our lovely home and can't wait to share our love for the Island with you. Come and enjoy a few days with us in beautiful, historic Summerside.
Island Home B&B offers three luxurious, tastefully decorated rooms. We offer rooms with Queen, Two Queen, and King sized Beds. Every room has TV/DVD and either ensuite bath and shower or exterior private bath and shower.
There is so much to see and do on PEI. Whether you're looking for incredible beaches, quiet walking trails, shopping, theatre, arts and culture, or amazing dining experiences, PEI will more than meet your needs. 
A full breakfast

Free high-speed wireless Internet
Air conditioning
Free off-street parking
Fax/printing services
Wake-up service
Private bathroom with shower (Please note: Prince room has an exterior bathroom, but it is private/keyed and not shared with other guests)
Complimentary full hot breakfast or a continental option
Non-smoking rooms and house /dedicated smoking area outside
TV and DVD player in each room
DVD library
Fridge and coffee machine/kettle and microwave (Lobby area)
Coffee, tea, water always available/included
Ironing board and iron
Hair Dryers
Additional heaters and fans, if required
Extra pillows and blankets
Vintage décor with a nautical flair. There are some beautiful antiques and pieces with a story to tell.
Sit and read a book at the south-facing bay windows or enjoy a movie on the large flat-screen television.
This room features a new and very comfortable king size pillow-top bed with high quality sheets to ensure you wake up in the morning refreshed and ready for the day!
The King Room offers a large ensuite bathroom with a shower.
Prices
All Seasons – $180 / Night
All prices are subject to applicable sales tax of 15%.
A comfortable and warm room, furnished with some great antiques and Marilyn Monroe pictures.
There is access to a large, private balcony and ensuite bathroom directly from your room. Watch the sunrise and enjoy a cup of tea or coffee on those beautiful sunny days. If the wind is right, through the branches of our old chestnut tree, you can even see the ocean!
The room features a queen size pillow-top bed with high quality bed sheets to ensure a good night's rest.
Prices
All Seasons – $180. / Night
All prices are subject to applicable sales tax of 15%.
10atch the sunrise, relax in the seating area and read a book, or watch a movie in the evenings.
This room features 2 queen size beds with pillow-top mattresses and high quality sheets to ensure a great night's rest. The large exterior bathroom (with shower) is private and just across the hall. Robes are supplied for our guests staying in the Prince Room.
Prices
All Seasons – $180. / Night
(max 2 adults/2 children)
*3rd Adult in room extra $100./Night
All prices are subject to applicable sales tax of 15%.
the most important meal of the day
Served daily at 9am in the Dining Room
menu
Breakfast options vary daily and could include…
French toast Casserole, Egg Boats, Potato Poach, Grilled cheese, or our famous Waffles with strawberries and cream, plus many others…
Check out our daily menu board in the B&B entrance to see what we're serving the next day.
beverages
Start your day with freshly ground coffee or an assortment of  teas and chilled juices…available at breakfast and throughout the day. 
Coffee, tea, water is always available and included in your central lobby off of the bedrooms.
fruit
Fresh fruit in season, fruit salad and dried fruit may be available each day. Mix fruit with yogurt or granola for some added energy before your busy day!
freshly baked treats
Baked specials could include fresh bread, scones, muffins…along with surprise treats in your lobby each day…
homemade fudge, ginger molasses cookies, shortbread cookies, butter tarts to name a few! 
in the heart of Downtown Summerside
2 Night Minimum Stay. 
1 night deposit required for any booking.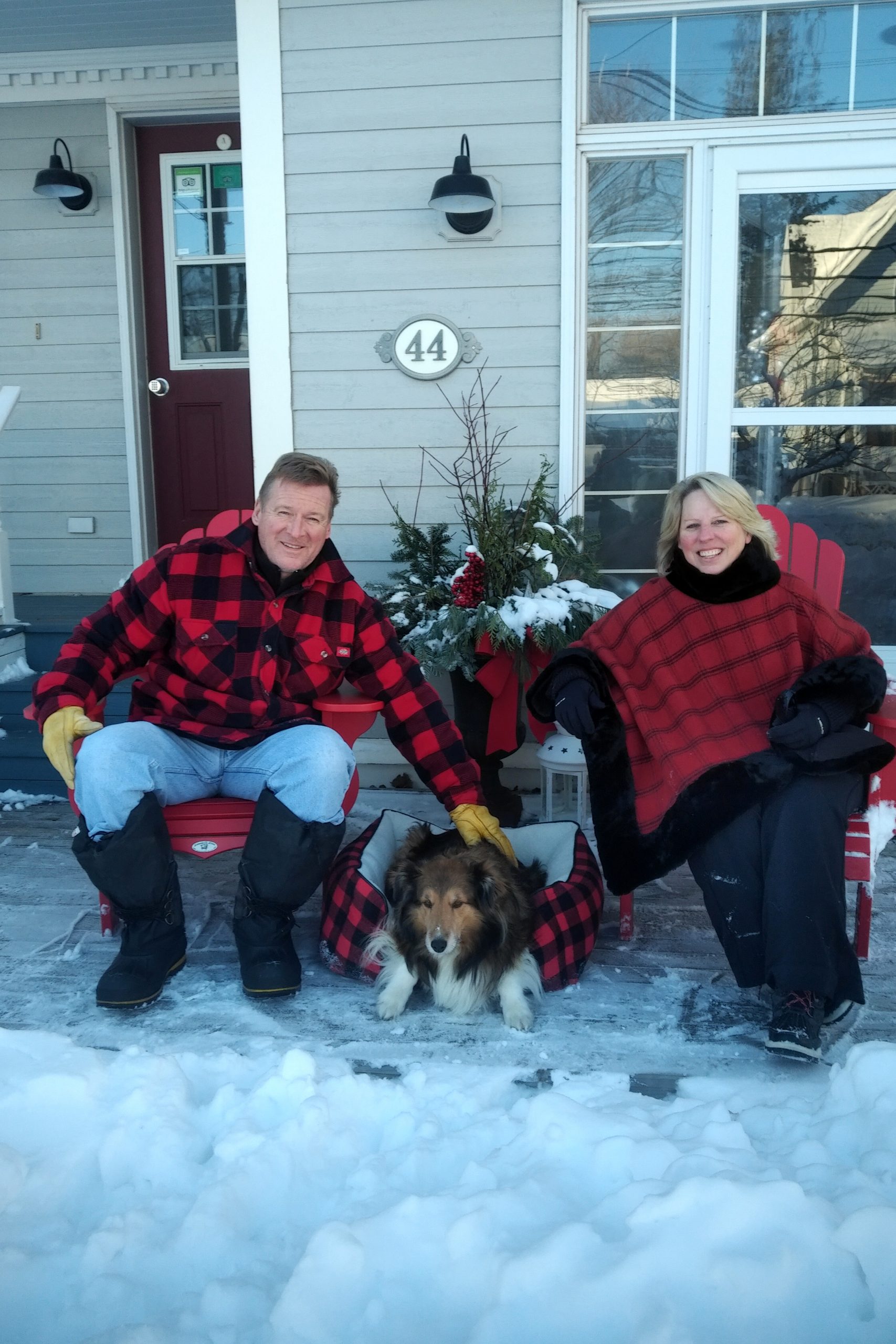 Mike and Sharon, your hosts at the Island Home Bed and Breakfast.